Do you know more about the world of PAW Patrol than you care to admit? Are you able to identify which catchphrase belongs to which character? Can you quote certain episodes from memory? Do you sometimes feel like it's PAW Patrol's world and we just live in it?
Congratulations! You're a dad.
As a member of the PAW Patrol Dads Club (very exclusive), you've probably (definitely) heard about the upcoming PAW Patrol: The Movie. You may be asked, on a daily basis, "Daddy, can we go see the new PAW Patrol movie? There may even be a calendar somewhere in your house (the refrigerator) counting down the days until the movie comes out. For the record, it arrives in theaters and streams on Paramount+ on August 20th.
Let's be honest: You know you're going to be seeing this movie one way or another, so to help you out, we watched the movie and chatted with Executive Producer Jennifer Dodge to give you the inside scoop on what to expect.
What is "PAW Patrol: The Movie About?
The official synopsis states: "When their biggest rival, Humdinger, becomes Mayor of nearby Adventure City and starts wreaking havoc, Ryder and everyone's favourite heroic pups kick into high gear to face the challenge head-on. While one pup must face his past in Adventure City, the team finds help from a new ally, the savvy dachshund Liberty. Together, armed with exciting new gadgets and gear, the PAW Patrol fights to save the citizens of Adventure City!"
Who is "PAW Patrol The Movie" for?
"We really wanted to make this movie for our preschool fans," Dodge told us, especially for those for whom "it might be their first time going to the movies," adding "for us, that's what's most important. We want our fans to love the movie."
She's quick to note, however, that "PAW Patrol is one of those things that even when kids grow out of it, they still are very fond of it. So our hope is… this can be that movie for the whole family. I do think the older kids who've loved the show growing up will really enjoy the movie."
What Makes "PAW Patrol: The Movie" Different From The TV Series?
We thought the film levelled up in terms of new visuals. From an animation perspective, characters translate beautifully to the big screen with the addition of more details. Seeing that care and artistry on screen makes for an enjoyable cinematic experience for everyone, not just the younger fans.
There's more to "PAW Patrol: The Movie" than good animation, though. Dodge notes that the producers wanted to get deeper into the backstory of at least one of the pups. In this case, Chase seemed a natural fit for that exploration. "Chase has kind of taken the place as the de facto leader when Ryder is maybe otherwise engaged. Chase is also (little known fact) the oldest of the pups." And while Dodge says she loves all the pups equally, "Chase is definitely a fan favourite."
Why "PAW Patrol: The Movie" Is More Than Just A Cartoon
Although PAW Patrol is a kids' cartoon, it does offer some important life lessons for everyone. "Even though you're little," says Dodge, "you can help out and you can do big things. And that's always an important lesson for us – of community service, of helping out and of being a hero to those around you." Dodge also mentioned that the core of PAW Patrol is age-appropriate action-adventure. At the onset of the series, the creators asked, "How can we tell action and adventure stories in a way that's really, really safe for that young audience?
These ideas have translated well into the big-screen version of the show. The movie is innovative in the way it shifts seamlessly between action and emotion, which makes it easier for children to process. Keep in mind that there are a few scary moments, so if your toddler is easily frightened, perhaps watching the movie together at home is a better idea than going to the theater. This way, you can pause and take a break if needed.
Why "PAW Patrol: The Movie Is Appropriate For A Wide Range of Ages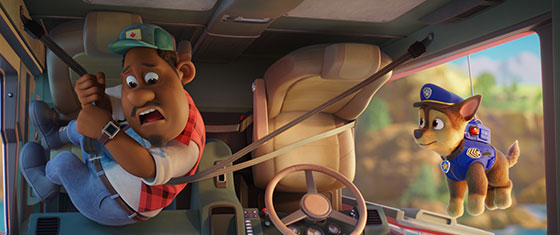 There is something in this movie for kids of all ages, from toddlers to seven-year-olds and even twelve-year-olds. We think that kids who started watching PAW Patrol when it first came out will still enjoy the movie. There are even more jokes for parents to get in the movie than in the TV series. In addition, the choice of voice actors (using, for example, celebrities like Kim Kardashian West, Randall Park, Dax Shepard, Tyler Perry and Jimmy Kimmel) will definitely put a little smile on your face.
PAW Patrol: The Movie arrives in theaters and on the streaming platform Paramount+ on August 20th!